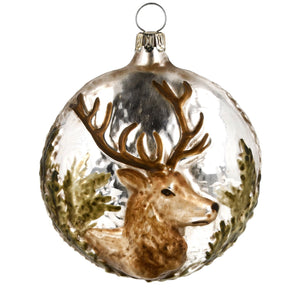 Traditional images were ever since very important for designing Christmas tree ornaments. Especially hunting motifs were very popular, that also refer to the origin of the tree decorations, the Thuringian Forest!
Marolin Ornaments are known for its handcrafting of both papier mâché and mouth blown glass ornaments in the Lauscha traditions. These ornaments are mouth-blown glass with hand painted details. 
Made in Germany using Traditional Old-World Techniques!
Measures:  3"w x 3-1/2"h