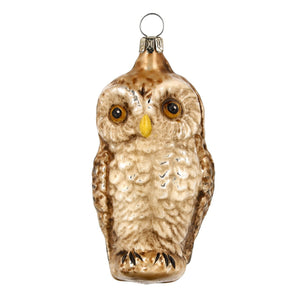 The owl as a symbol of divine wisdom should be on every Christmas tree. Its bright eyes are surrounded by a plain brown plumage. This ornament is entirely patinated and closed with a real iron cap.
Marolin Ornaments are known for its handcrafting of both papier mâché and mouth blown glass ornaments in the Lauscha traditions. These ornaments are mouth-blown glass with hand painted details. 
Made in Germany using Traditional Old-World Techniques!
Measures:  2"w x 3-3/4"h x 1-1/2"d