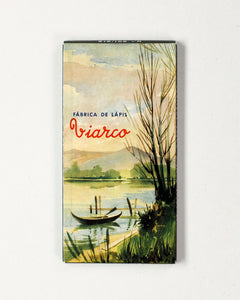 Gorgeous Box containing 12 assorted coloured pencils, illustrated with a picture of a idyllic landscape.
Faithfully reprinted, as it was sold through the 1940s to the 1960s by Viarco, this edition includes a piece of paper with the history of the brand, both in Portuguese and English. 
Viarco - Indústria de Lápis, Lda. is a Portuguese manufacturing company based in São João da Madeira. Founded in 1907, Viarco is not only the oldest but the only pencil manufacturer in Portugal, having also remained as a family business.
Measures:  7.48"l x 3.75"w x 0.4"h