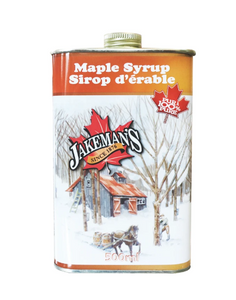 Jakeman's Maple syrup is 100% pure and sourced from local farms all over Ontario. From the Mennonite communities of St. Jacobs, and the large maple orchards in Northern Ontario to small farms surrounding our location in Beachville.
The Jakeman family has been supporting our communities, and producing our award winning blend of 100% pure maple syrup since 1876. 
100% local Ontario, pure maple syrup – all the way from the tree to the bottle.
Certified Vegan, Kosher, and Halal, this Grade 'A' Amber maple syrup is the perfect balance of flavour: not too light, yet not too dark.
250ml