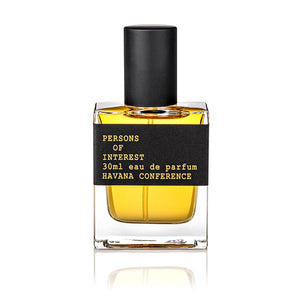 Persons of Interest cologne is a unisex line of scents. It's for anyone who can appreciate an aversion to the norm. This one's called Havana Conference, and it's one of our most sought-after fragrances. The blend of tobaccos lets you know it's there to stay, though it's tamed with sweeter notes of vanilla and rum that stick around, too.
Havana Conference
30ml, Eau de parfum.
Description: Notes of patchouli, vanilla, rum, jasmine, cedarwood, tobacco.
Box: 3"w x 1.5"d x 4.5"h