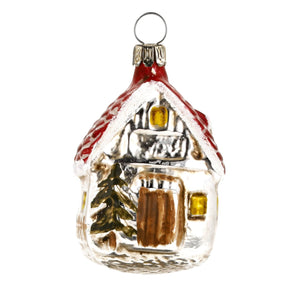 The small but very detailed forest house fits perfectly to any Christmas tree. The snowy roof is dusted with fine mica and a small fir stands protectively next to the entrance. Light shines from the windows and the chimney is closed with a real iron cap to fix the ornament on the tree.
Marolin Ornaments are known for its handcrafting of both papier mâché and mouth blown glass ornaments in the Lauscha traditions. These ornaments are mouth-blown glass with hand painted details. 
Made in Germany using Traditional Old-World Techniques!