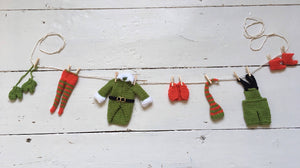 A beautifully knitted set of Elf Washing to decorate your fireplace, tree, mirror etc! 🎄
The set includes Elf's Coat, Bib Shorts, Waistcoat, Tights, Shoes, Hat & Gloves.
The set is completed with a clothes line of cord and tiny wooden clothes pegs all put together in an organza bag for safe storage or lovely to be given as a Christmas present!
Items measure :
Coat -10 cm
Shorts - 10 cm
Waistcoat - 4 cm
Tights - 11cm
Shoes - 4 cm
Hat - 10 cm
Gloves - 3 cm each
Lovingly hand knitted In the United Kingdom 🇬🇧