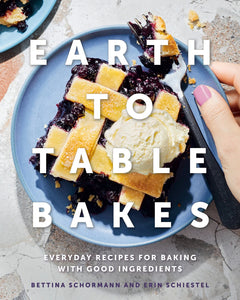 Two long-time pastry chefs share 100 of the simple, mouthwatering recipes for desserts and savoury delights that they've perfected over years spent working together in the kitchen.
 
The recipes in Earth to Table Bakes are designed for everyday baking at home--for indulgent moments shared with family and friends and for celebrations large and small. With quality pantry essentials, you'll soon be whipping up an impressive array of baked goods, including mouthwatering Salted Tahini Chocolate Chunk Cookies, Almond Anise Biscotti, Wild Blueberry Ginger Lattice Bars, Lemon Ricotta Muffins, Strawberry Glazed Chai Cake Doughnuts, and Plum and Cardamom Coffee Cake. Recipes for savoury baking include Crumpets, English Muffins, Garlic Kale and Goat Cheese Soufflé, Tourtière, and Spring Onion and Roasted Mushroom Tart, among others.


Hardcover || 304 pages || 8.00" x 10.00"