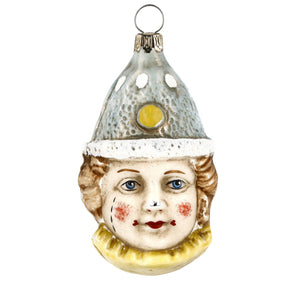 The clown welcomes us with a crying and a laughing eye. The edge of his blue cap is sprinkled with real glass mica. The iron cap at the upper end is to easily fix the ornament on the Christmas tree.
Marolin Ornaments are known for its handcrafting of both papier mâché and mouth blown glass ornaments in the Lauscha traditions. These ornaments are mouth-blown glass with hand painted details. 
Made in Germany using Traditional Old-World Techniques!
Measures:  2"w x 3-1/4"h x 1-1/2"d