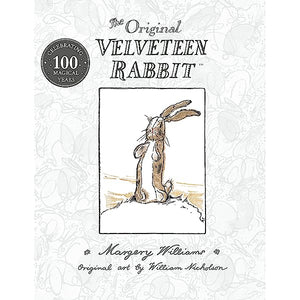 A stuffed toy rabbit (with real thread whiskers) comes to life in Margery Williams's timeless tale of the transformative power of love. Given as a Christmas gift to a young boy, the Velveteen Rabbit lives in the nursery with all of the other toys, waiting for the day when the Boy (as he is called) will choose him as a playmate.
In time, the shy Rabbit befriends the tattered Skin Horse, the wisest resident of the nursery, who reveals the goal of all nursery toys: to be made "real" through the love of a human. "'Real isn't how you are made,' said the Skin Horse. 'It's a thing that happens to you. When a child loves you for a long, long time, not just to play with, but REALLY loves you, then you become Real.'"
This sentimental classic--perfect for any child who's ever thought that maybe, just maybe, his or her toys have feelings--has been charming children since its first publication in 1922. 
Hardcover
48 Pages