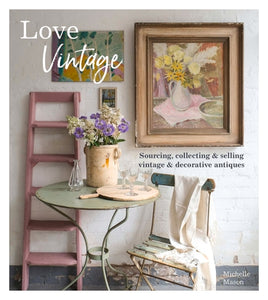 If you're already an avid collector of flea market finds, or eager to start a vintage business, or you simply enjoy the beauty of time worn objects, Michelle Mason's hands on approach to collecting will help inspire your finds, offer ideas on how to showcase your keepsakes and equip you with insider knowledge to get you to the markets and start building your collection.
With a focus on popular vintage items and decorative antiques Love Vintage has sections on favourite places to source stock, styling ideas, help with setting up a vintage business, purchasing tricks and tips and advice from experts in their field.
The author is Michelle Mason is a designer, illustrator, and owner of successful vintage emporium Mason & Painter, which opened in Columbia Road, London E2 in 2013 to great acclaim. She is the author of Flower Market: Botanical Style at Home (2019) and Vintage Shops London (2021).